Boggs Center – Living For Change News Letter – May 2nd, 2017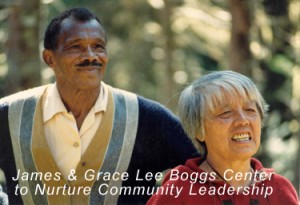 Living for Change News      May 2nd, 2017
Thinking for Ourselves
Development Possibilities
Shea Howell
Big developers across Michigan are celebrating. The State legislature is on a fast track to approve tax incentives to provide a collective $1 billion windfall to folks like Dan Gilbert and shift the cost of future private developments onto citizens. The plan would let developers withhold tax money from new revenue raised by projects on "blighted or long vacant land." Governor Snyder is sure to sign the final version of the plan.
This is an astonishing abuse of legislative power. Even some Republicans have found this set of bills disturbing. Rep. Martin Howrylak of Troy, said this is "nothing more than a transfer of wealth" from the working class to "selected special interests" and is an example of "crony capitalism.
Michigan has not seen such a blatant abuse of legislative authority in support of private gain since the Quick Take law enacted to allow General Motors to flatten Poletown for a Cadillac plant. In 1981 the Michigan Supreme Court approved the power of the State to seize private property for a "public purpose." They justified the forced relocation of 3,500 people and the destruction of 1500 homes, 144 businesses, 16 churches, a school and hospital. In 2004 that same Court decided they had made a mistake and overturned their earlier decision.
In the case of Poletown, there was at least a robust public debate over the appropriate role of government in fostering economic development.  The current plan is supported as little more than a moneymaking scheme for big developers. Detroit News columnist Daniel Howes asked simply, "Why not?"
Howes spends most of his column accurately outlining that most people object to this scheme because it is all about using public money to support private wealth. He then says there is nothing wrong with that. "Rich developers whose overriding purpose is to generate meaningful returns on their investment" cannot ignore what he calls "market realities created by a half-century of urban decline."
Howes exclaims, "I got news for the skeptics: You can't build your way out of 50 years of urban disinvestment on the cheap." This declaration is apparently supposed to make "skeptics" and "recriminators" back off.
However, the same people and thinking that brought us the last 50 years of disinvestment are the ones backing this new scheme.
Every credible academic and economic study of the last 50 years demonstrates the failure of this kind of thinking. The Upjohn Institute senior economist Timothy Bartik said, "Incentives do not have a large correlation with a state's current or past unemployment or income levels, or with future economic growth."
Currently Michigan's array of tax breaks and business incentives are well above average in the country. In a recent article offering a different view of development by the Brookings Institution, scholars argue for "holistic approaches to revitalizing legacy cities."  They argue for "policies to increase human capital throughout the city, including improving public education and expanding employment and entrepreneur training."
"The most important short-term strategy," they say, " is increasing employment levels among Detroit neighborhood residents."
If we develop a " healthy, sustainable local economy" they explain, " increasing the number  of jobs by 100,000,  we would add more than $2 billion annually to the local economy, even if those jobs paid $10 an hour."
Just, sustainable development is possible.  It requires the will to make it a reality and the willingness to refuse to fall for the schemes by those who claim a concern for the public interest while lining their own pockets.

22nd Annual PTO Conferance Comes to Detroit
Tawana "Honeycomb" Petty
Eclectablog
The 22nd Annual Pedagogy & Theatre of the Oppressed Conference (PTO) will be held in Detroit, Michigan from June 1st – 4th and Detroiters can attend the entire conference for just $30!

The PTO conference will be in Detroit commemorating the 50th Anniversary of 1967 Detroit Rebellion and Dr. Martin Luther King's speech, Beyond Vietnam: A Time to Break the Silence – in which he called for a radical revolution in values in the struggle against the giant triplets of racism, materialism, and militarism.

This is a conference for students, educators, scholars, artists, activists, organizers, neighbors and people of all ages, places, identities, and experiences. If you want to create dialogue and come together to envision a more just society, you are invited, you are welcomed, and you are needed.
In July of 1967, responding to racist employment discrimination, segregated and substandard housing and public schools, lack of opportunity and police brutality, Black neighborhoods in Detroit exploded in what has been characterized as the most deadly urban rebellion in the United States to date.

Nearly 50 years later in Detroit and elsewhere, people are thinking about the meaning of rebellion and the role of radical love in transformation. Rebellions are often expressions of justifiable anger and pain, but are not typically thought of as acts of love. What is the relationship between these strategies? What's love got to do with either of them? As a city and as a world, what are our critical, visionary responses to a system that constantly challenges our humanity?

Pedagogy of the Oppressed (PO) was born out of the needs of Brazilian peasants in a particular time and place, but Paolo Freire's theory of liberatory education remains for all of us to use his own words from Pedagogy of Hope, "an adventure in unveiling…an experiment in bringing out the truth." Theatre of the Oppressed (TO), born out of similar needs, was ironically triggered by what Augusto Boal himself noted was an error in judgement, when his theatre company presented a play that called for "shedding our blood to free our lands" without being willing to take up arms itself. Practitioners of PO and TO continue to support, challenge, and serve communities by developing techniques that promote transformative action and amplify the voices of oppressed people speaking their own truths.
Together we will learn learn, share and connect through interactive techniques developed by Paulo Freire, Augusto Boal, and others who have struggled against, or are struggling against oppression in order to create justice.

Now more than ever we must come together to share strategies to combat the many oppressions that continue to rob us of our humanity. PTO invites you to be part of its conference, commemorating a moment of rebellion in the past, but also engaging in a powerful effort to reimagine current and future struggles as acts of waging love.

Read more about Freire and Boal and their work, and register for the PTO conference at ptoweb.org.

The time has come to grow our souls. – Grace Lee Boggs
Rich Feldman
Emergent Savannah Heads North
     14 folks drove 16 hours to Detroit and immersed themselves in conversations, tours and food asking, what does Detroit mean to their work in Savannah? Some of our Savannah friends were artists, ministers, disability justice inclusion activists, social work students and professors, and traveled under the banner "Emergent Savannah." They stayed at the Hush House and were nourished by the wise and healthy food preparers, Rozia and Myrtle Thompson Curtis and the Healing Support Network.
They arrived late on Saturday and we spent Sunday together on the Boggs Center east side tour:  From Growing our Economy to Growing Souls. From the Elmwood cemetary where we can feel and experience the water flowing from Bloody Run Creek to the Packard Plant where we discussed the birth of the American Dream and its death as well as the spirited discussion about an emerging new epoch in human history.
From there to the Poletown Plant introducing the Georgians to the last 50 years of Detroit History from the Rebellion through automation, deindustrialization, the crack destruction, the rise of global automotive competition the end of the J-O-B.  We then visited Feedom Freedom Growers, Heidelberg, drove by the James and Grace Lee Boggs School and ended at Can Arts and the windmills, where we see the end of the Bloody Run Creek.  We were reminded of the resilience of the land and the resistance of Chief Pontiac and the Anishinaabe people which includes the Odawa, Ojibwe, Potawatomi, Oji-Cree, Mississaugas, and Algonquin peoples and their resistance to the Western Europeans in 1760s.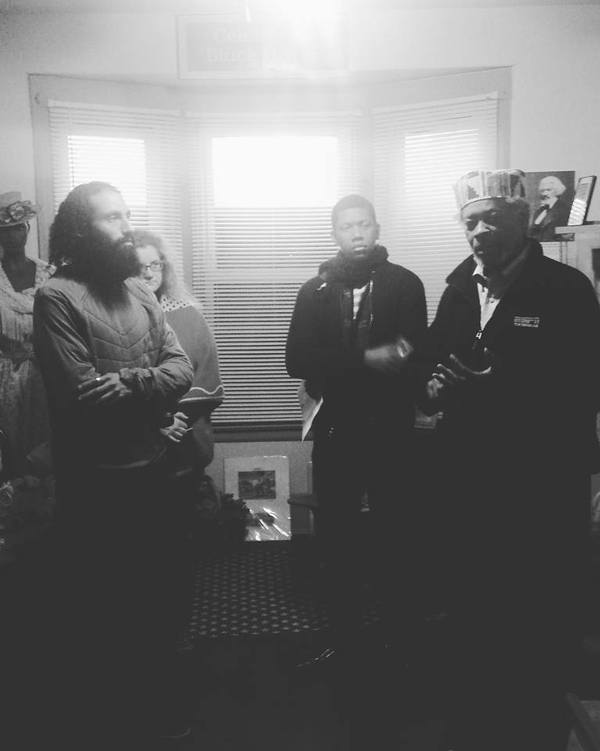 We ended day one with a hunger to unleash our commitment to the importance of history, time and imagination and the commitment by James and Grace to assume responsibility for our cities and country.
Matt Birkhold a comrade and friend from New York and founder of the Visionary Organizing Lab facilitated a workshop on understanding systems and the relationship between systems and our power to become voices, actors and visionaries as we initiate our local work and moving beyond protest to resistance and alternatives. From Matt's work with Immanuel Wallerstein to his forthcoming book on Detroit (1963 to 1975) he created a space for us to see the interconnectedness and emergence of the systems of wage labor, the enclosure acts, the emergence of cities, the destruction of the land (earth moving from source to resource), scientific thinking, the changing role of the the military, capitalist patriarchy, Protestantism, the destruction of Women's ways of knowing and the loss of control over reproduction to the burning of women as witches and women used to as creators of black labor for slavery. All of this came from the question, What was necessary to create the Slave Trade and bring people in chains to the western world in 1619?  He ended with the questions:
How do we connect with values and initiatives that stop segmenting our thinking into silos and recognize that our crisis is a systemic crisis? What does it mean to be human? How do we engage in the journey to become creative, compassionate, caring human beings as we commit ourselves to walking the journey to the Next American Revolution?
By this time, all our minds and hearts were spinning. Folks then traveled to the west side and saw the African Bead Museum and then settled in for a discussion at the Birwood House with Kim Sherobbi, Michael Doan (Detroit Independent Freedom Schools), Janice Fialka (author of What Matters: Reflections on Disability, Community and Love) and we explored the question:  What is the difference between schooling and education?  We ended the day back at the Boggs Center where Tawana "Honeycomb" Petty (poet and activist) and Wayne Curtis (Emory Douglas Art Project and Feedom Freedom Growers) discussed art as resistance and art and revolution.
Our final day began at Earthworks with Shane Bernardo and Myrtle Thompson Curtis sharing their personal stories from their early days, raised on Detroit's east side to their work in the food security and urban farming movement.  The theme, learning from the land and from our ancestors was joined together with the need and commitment to create liberated territories, and feeding ourselves so we can free ourselves.
A wonderful lunch at Avalon on Bellevue and then back to the Boggs Center for a discussion with Baxter Jones (Homrich 9 water activist), Lisa Franklin (Warrior on Wheels) and Yusef Shakur (Putting the neighbor Back In the Hood and author of Window to My Soul).  We discussed the importance of values, relationship building and the fundamental commitment that we need to heal ourselves to sustain ourselves through commitment to transformation and love. Each shared stories of their ability to move from pain to vision and evolve as leaders in their work.
(When you visit Detroit, there is also a west side tour: From Rebellion to Creating Caring Communities. To learn more about Matt Birkhold's workshop: matt@visionaryorganizinglab.org)
WHAT WE'RE WATCHING
Truthdig columnist and Pulitzer-Prize-winning journalist Chris Hedges addresses fascism and the rise of the Trump war machine in the keynote speech at the "After Trump and Pussy Hats" event in Vancouver, British Columbia, on March 3, 2017.
WATCH IT HERE
_________________________________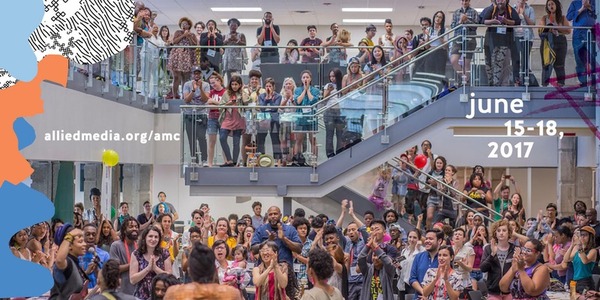 The James and Grace Lee Boggs Center to Nurture Community Leadership

.

3061 Field Street
Detroit, Michigan 48214
US
---
---